R01R01 is a registrar in Russia. Регистратор R01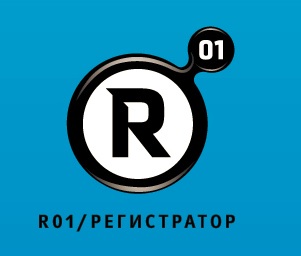 Description of the Registrar
Edit
Registrar R01 - domain name registrar belonging to the group of companies "Hosting Community". The company became the first accredited registrar in the RU national domain and today offers a wide range of professional services, being one of the leaders in terms of the number of registered domains for .RU .SU and .рф.
Регистратор R01 — регистратор доменных имен, входящий в группу компаний Hosting Community. Компания стала первым аккредитованным регистратором в национальном домене RU и сегодня предоставляет широкий спектр профессиональных услуг, являясь одним из лидеров по количеству регистрируемых доменов .RU, .SU и .РФ.
Anti-Spam Position
Edit
Not defined
Official Position
Edit
Not defined
Actual Behavior
Edit
R01 is widely abused by the Russian EvaPharmacy fraud operation.
R01 ignores all requests to suspend illegal domains. Domains are only suspended at the expiry date.

R01 широко злоупотребляли Российской EvaPharmacy мошеннической операции.
R01 игнорирует все просьбы приостановить незаконные доменов. Домены только приостанавливается на срок годности.
Registrar responsiveness
Edit
Showing all registrars including R01.RU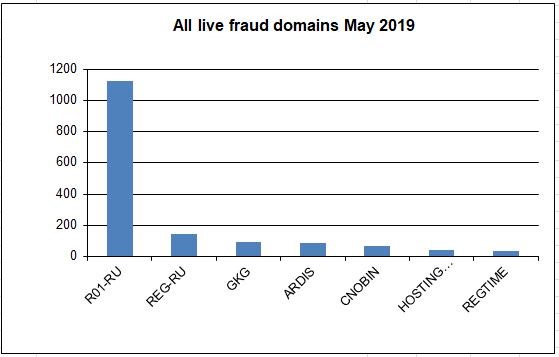 Showing all registrars excluding R01.RU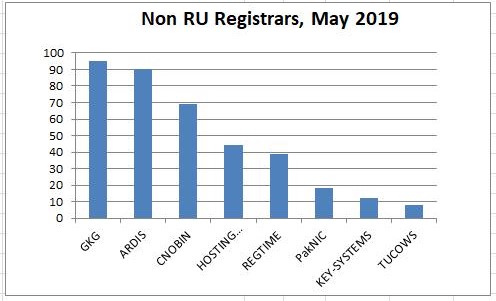 Piechart showing the crime sponsoring contribution by each registrar.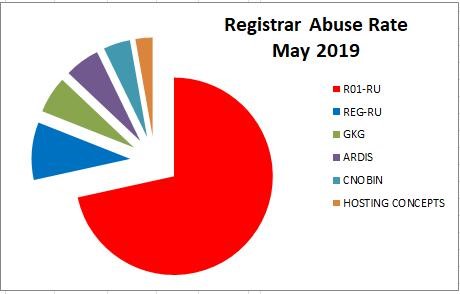 The comparison between this registrar and others can be seen on the graphs.
It shows how many domains have not been suspended by various registrars over the past year. The higher the column, the more domains are sponsored by the registrar.
Currently the most abused registrar is Russia's R01.ru. This registrar sponsors the vast majority (often over 60%) of the fraud domains used within the Eva Pharmacy group.
The second most abused registrar is Russia's REG.RU REG.RU at over 25%
The next most abused registrar is GKG GKG at 4%.
The next most abused registrar is The Netherlands' Hosting Concepts aka OpenProvider at 3%.
These are followed by Russia's ARDIS, India's PublicDomainRegistry PDR, China's CNOBIN, Canada's Tucows, and Pakistan's PakNIC.
Outside of Russia, most registrars have been quick to terminate the service contracts with these cyber-criminals upon seeing the obvious evidence of fraud.
---
Сравнение между этим регистратором и другие можно увидеть на графике.
Она показывает, сколько доменов не были приостановлены по различным регистраторам за прошедший год.
Чем выше столбец, тем больше доменов спонсируются регистратора.
В настоящее время наиболее распространенным регистраторы Индии Netlynx и России R01.ru и Naunet
Этих трех регистраторов спонсор подавляющее большинство мошеннических доменов, используемых в рамках Eva Pharmacy
Другие регистраторы были быстры, чтобы расторгнуть договоры на обслуживание с эти кибер-преступники, видя очевидные факты фальсификаций.
Нажмите на график чтобы увеличить ее.
Examples of domains used for fraud
Edit
Click on any heading for evidence of fraud.
Over 1,000 domains with false registrant information is listed at R01-RU_list
Common IP addresses
Edit
A quick way to verify these sites is to examine the hosting addresses. Many compromised hosts used for this operation during January 2019 were located at these IPs.
- - - - - - - - - - - - - - -
- - - - - - - - - - - - - - -
- - - - - - - - - - - - - - -
- - - - - - - - - - - - - - -
- - - - - - - - - - - - - - -
179.43.149.28
185.219.135.38
185.225.16.241
185.225.16.242
185.225.16.243
185.225.16.244
185.36.81.71
185.36.81.73
185.36.81.82
188.68.248.94
195.123.240.55
212.34.158.133
212.34.158.134
43.230.131.22
64.251.10.228
90.139.255.232
91.211.247.241
94.186.109.106
95.165.149.124
95.211.217.210
95.211.217.212
95.84.156.166

Recent High use IP addresses from October 2018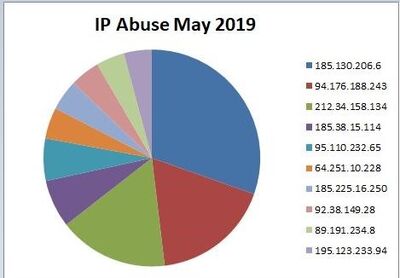 Where to send abuse complaints
Edit
Additional Contact Information
Edit
Applications, which can seriously affect the functionality of your services, are performed only by an authorized request. You can send an authorized request through section https://partner.r01.ru "Contact Us".
Sincerely, Department of Customer R01
(RU-CENTER Group)
Phone: +7 495 783-3-783
8800 775-37-83 (for Russian regions)
Fax: +7 (495) 930-88-00
Postal address
Edit
Headquarters: Moscow, Leningrad Prospect, 74, Building 4
Registration Information
Edit
Telephone and FAX
Edit
General +7 (495) 783-3-783
Regions 8 (800) 775-3-783
Related information
Edit
Pharmacy fraud operations
Affiliate program coordinator employing spammers
Sources for this article
Edit
Independent
Edit
InBoxRevenge Eva Pharmacy campaign
Interview
Edit
Corporate
Edit