PakNIC is an ICANN accredited registrar in Pakistan.
PakNIC (Private) Limited, a Private Limited Company incorporated under section 32 of the Companies Ordinance, 1984 of Government of Pakistan. PakNIC is also the first ICANN accredited Domain Registrar in Pakistan with offices at Lahore and in New Jersey, USA.
Anti-Fraud Position
Edit
14. Breach and Revocation.
PAKNIC reserves the right to suspend, cancel, transfer or modify your domain name registration or suspend, cancel or modify other services we provide in the event (a) you materially breach this Agreement (including the Dispute Policy) and do not cure such breach within given period of notice by PAKNIC, (b) you use the domain name registered to you to send unsolicited commercial advertisements in contradiction to either applicable laws or customary acceptable usage policies of the Internet, (c) you use your domain name in connection with unlawful activity, or (d) grounds arise for such suspension, cancellation, transfer or other modification as provided for in this Agreement.
Official Position
Edit
Section 14 c. allows PakNIC to suspend domains used for illegal purposes.
Actual Behavior
Edit
Registrar responsiveness
Edit
Showing all registrars including R01.RU
Showing all registrars excluding R01.RU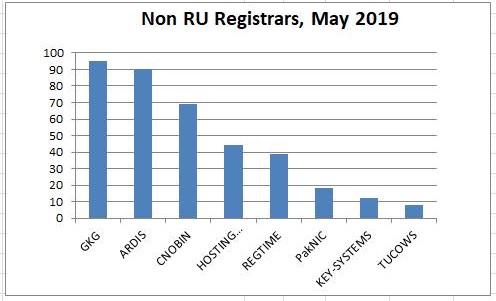 Piechart showing the crime sponsoring contribution by each registrar.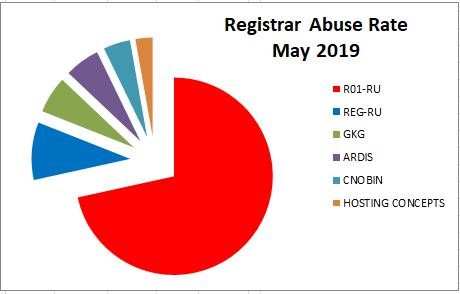 The comparison between this registrar and others can be seen on the graphs.
It shows how many domains have not been suspended by various registrars over the past year. The higher the column, the more domains are sponsored by the registrar.
Currently the most abused registrar is Russia's R01.ru. This registrar sponsors the vast majority (often over 60%) of the fraud domains used within the Eva Pharmacy group.
The second most abused registrar is Russia's REG.RU REG.RU at over 25%
The next most abused registrar is GKG GKG at 4%.
The next most abused registrar is The Netherlands' Hosting Concepts aka OpenProvider at 3%.
These are followed by Russia's ARDIS, India's PublicDomainRegistry PDR, China's CNOBIN, Canada's Tucows, and Pakistan's PakNIC.
Outside of Russia, most registrars have been quick to terminate the service contracts with these cyber-criminals upon seeing the obvious evidence of fraud.
---
Sample illegal domains
Edit
These are all part of the pharmacy fraud network centered in Russia, known as EvaPharmacy.
They were checked and found to be live on May 8, 2019 Click on any heading to see the evidence relating to each fraud.
your-health-mart.com

no1onlinepharmacy.com

online-pills.com

family-drugstore.net

pharmacyatwalgreens.com

bestdrugs24.com
buydrugscheap.com
eu-health-centre.com
health-mall24.com
health-mall365.com
health-my365.com
healthy-family-market.com
hq-medmarket.com
hq-pillmarket.com
my-europe-health.com
my-health-centre.com
tabsfast.com
your-health-eu.com

smile.us.org

Common IP addresses
Edit
A quick way to verify these sites is to examine the hosting addresses. Many compromised hosts used for this operation during January 2019 were located at these IPs.
- - - - - - - - - - - - - - -
- - - - - - - - - - - - - - -
- - - - - - - - - - - - - - -
- - - - - - - - - - - - - - -
- - - - - - - - - - - - - - -
179.43.149.28
185.219.135.38
185.225.16.241
185.225.16.242
185.225.16.243
185.225.16.244
185.36.81.71
185.36.81.73
185.36.81.82
188.68.248.94
195.123.240.55
212.34.158.133
212.34.158.134
43.230.131.22
64.251.10.228
90.139.255.232
91.211.247.241
94.186.109.106
95.165.149.124
95.211.217.210
95.211.217.212
95.84.156.166
185.130.206.6
185.36.81.156
188.68.250.113
90.139.212.114

Recent High use IP addresses from December 2018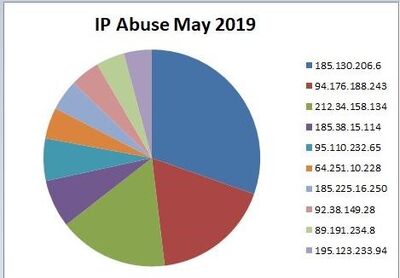 Description of the Registrar
Edit
We provide domain name registration and domain management services through out its lifecycle. We also offer private domain name registration and portfolio management services. In addition, we can also register your trademark in order to protect your business and identity. Email: sales@paknic.com
Where to send abuse complaints
Edit
If you would like to report any abuse complaint (WHOIS inaccuracy, spam, malware, phishing, etc.), it must be filed with our registrar abuse team by either creating a ticket at http://support.paknic.com under abuse department or by sending an email to DomainAbuse@paknic.com. Alternatively, you may also send us a fax at this number +1 (732) 297-8906.
DomainAbuse@paknic.com (fails)
By the online web page
Edit
Additional Contact Information
Edit
Social Media
Postal address
Edit
116 Salem Road,
North Brunswick,
NJ 08902, U.S.A.

Registration Information
Edit
Telephone and FAX
Edit
+1.7322978908
+493021009090 (fax)

Related information
Edit
Pharmacy fraud operations
Affiliate program coordinator employing spammers
Sources for this article
Edit
Independent
Edit
Interview
Edit
Corporate
Edit
Related information
Edit
Pharmacy fraud operations
Affiliate program coordinator employing spammers